Blog
Introducing: Repeat Bookings
Learn more about creating repeat bookings as an admin or user
October 1, 2020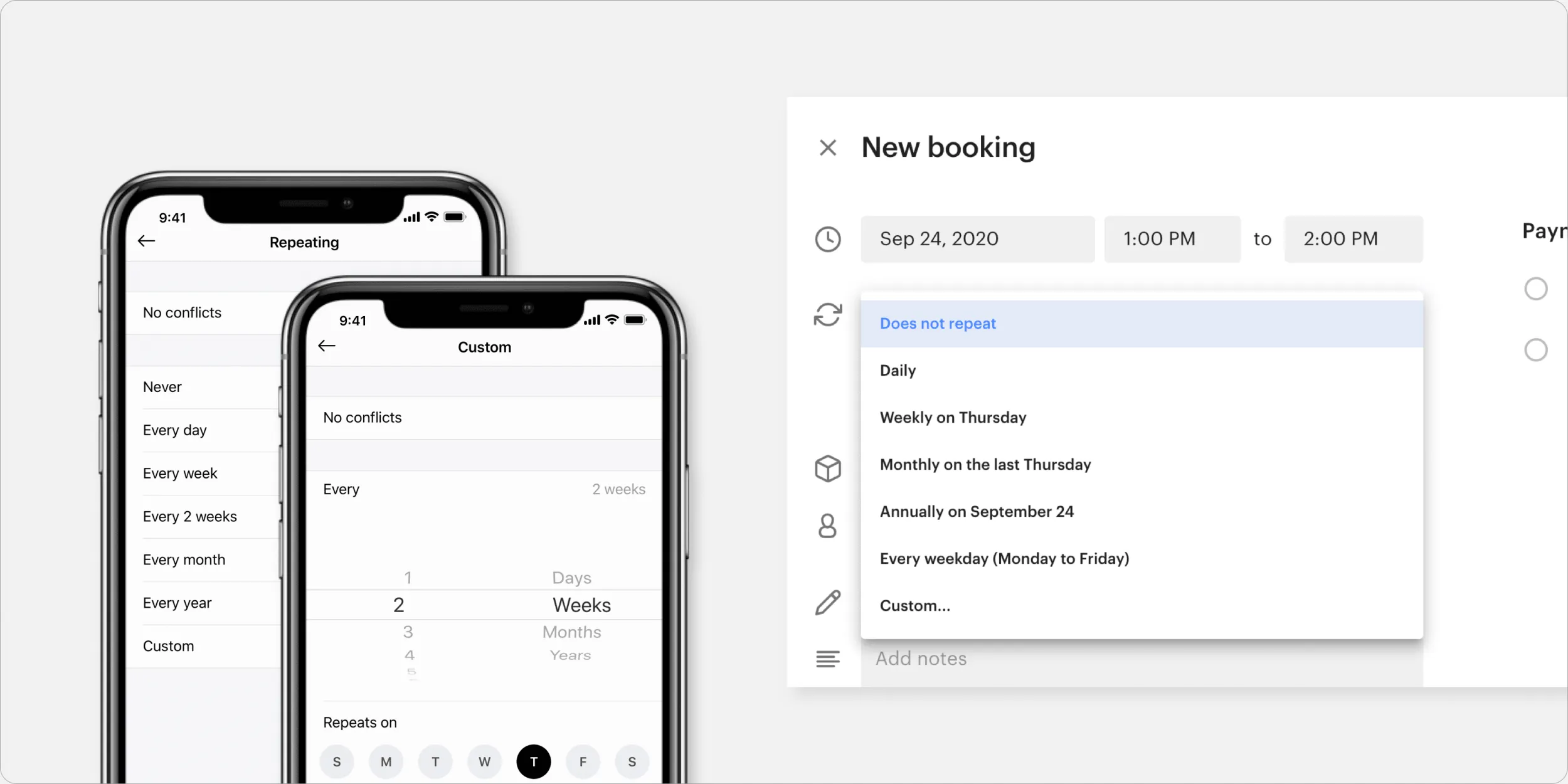 You can now create repeat bookings for your users from within the web dashboard! Your users can also create repeat bookings for themselves in the mobile app.
When making a new repeat booking, you can select how you'd like the booking to repeat, or choose a 'custom' repeat frequency. You can also edit the repeat booking and choose how you'd like your users to be invoiced. Continue reading to learn all you need to know about repeat bookings in Optix!
Users can make repeat bookings in their mobile apps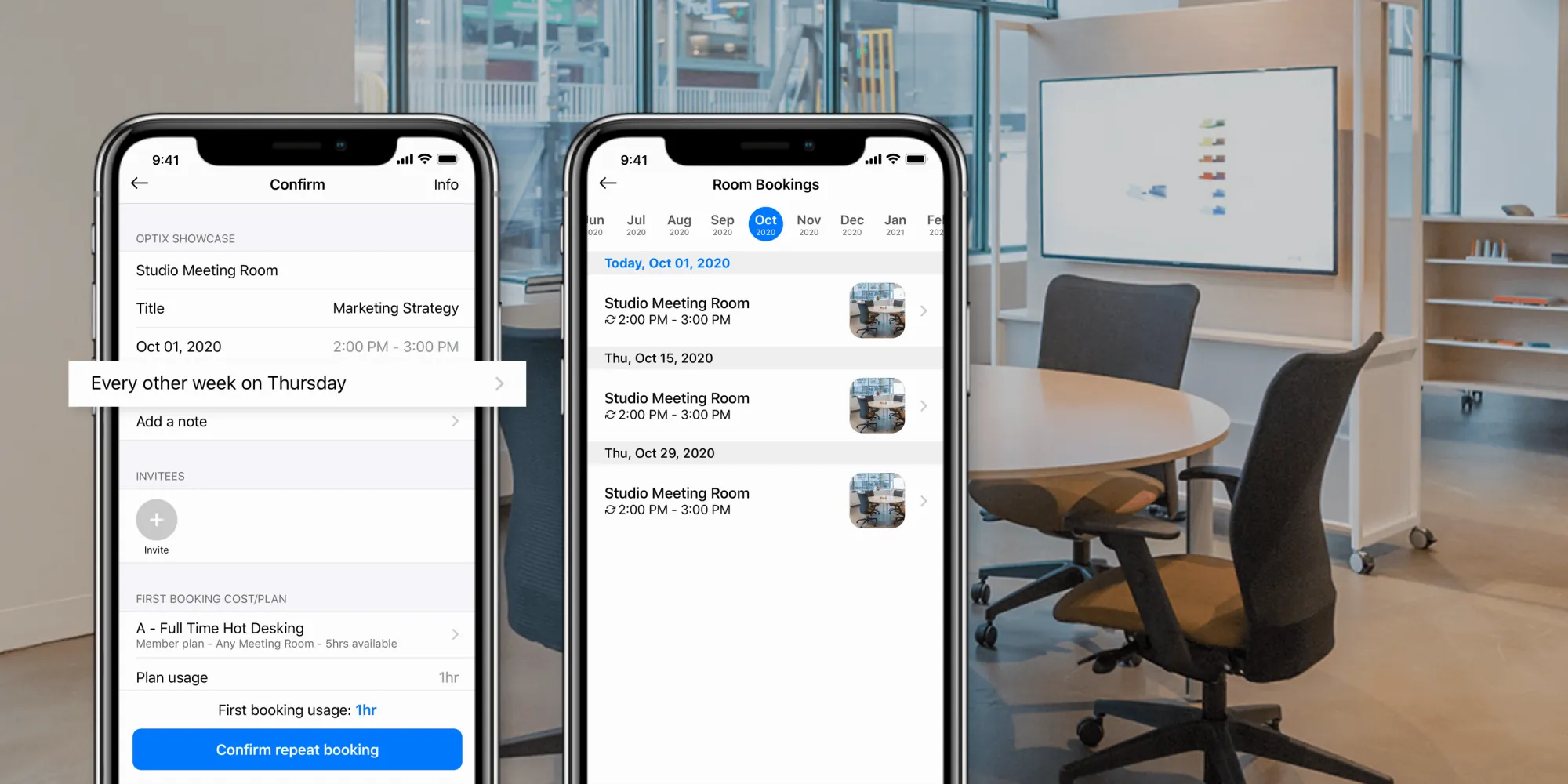 Your users can now create repeat bookings directly in the mobile app. To make a booking repeat, they'll select 'More options' at the bottom of the calendar screen and choose a repeat option. We've put together an FAQ that walks through creating a repeat booking for your users. Keep in mind that as an admin, you can choose which resources allow for repeat bookings in the individual resource's settings.
Customize the frequency and ending of the booking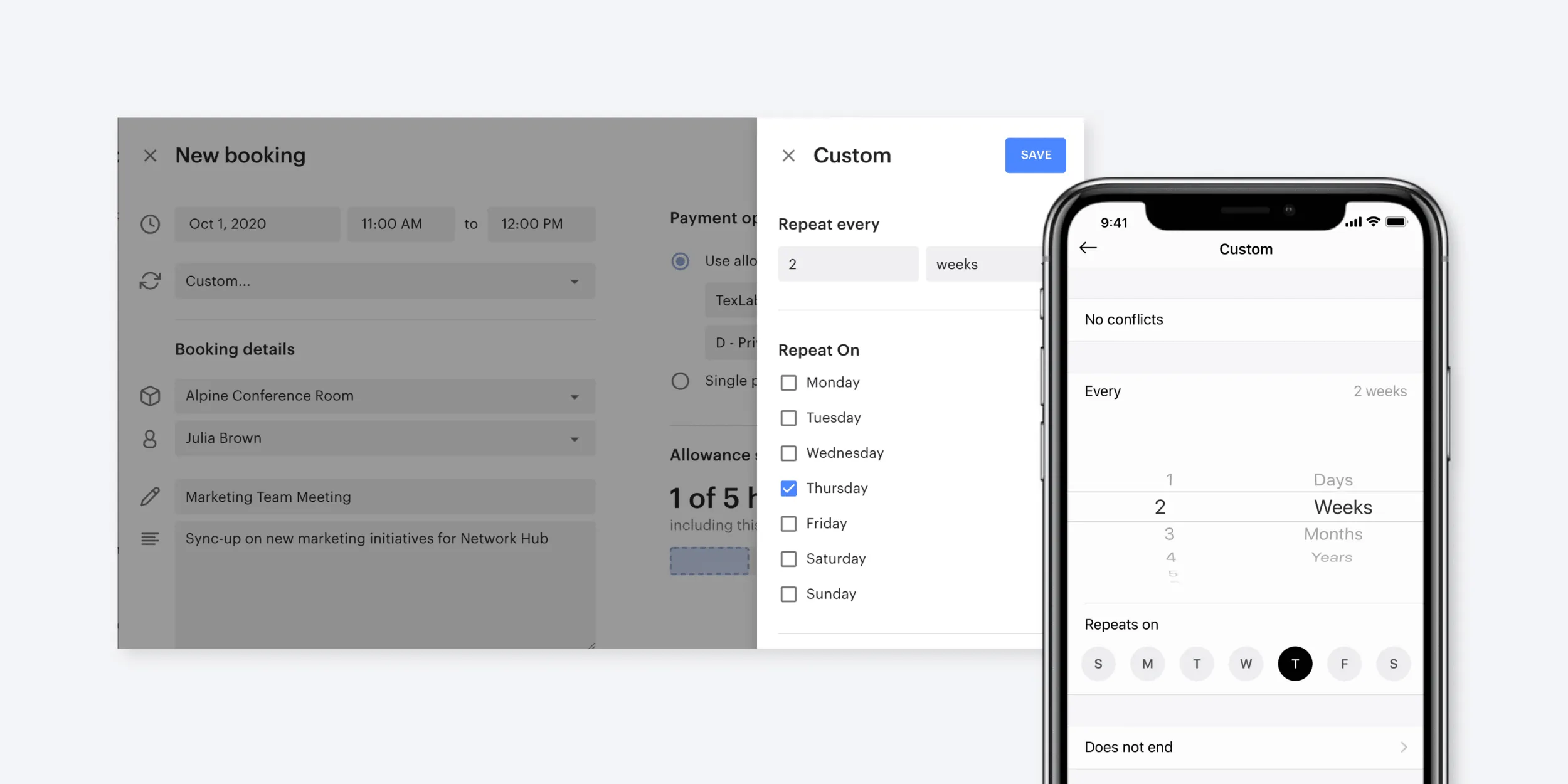 When creating a repeat booking, you can choose from the repeat options provided, or customize the frequency yourself. By selecting to customize the frequency, you have the ability to choose how frequently the booking repeats, along with how long the booking repeats for. The options include:
Frequency:

Every X amount of days, weeks, months, and years.

Repeats on:

Days of the week the booking repeats on.

Ending for the booking:

Does not end, Ends on a date, and After a number of occurrences.
View booking conflicts

When you or your users are in the process of creating a repeat booking, you may be presented with a list of dates that are unavailable to book (known as conflicts). You are able to view how many conflicts there are, and choose whether to skip them (learn more here). If you schedule the repeat booking with these conflicts, those days will not be included as part of the repetition. The conflicts may be due to:
Unavailable booking dates:

There is another booking scheduled on one of the dates.

The repeat booking is breaking a rule set in the resource's settings

: For example, there is a buffer time set for the resource that doesn't allow you to create a repeat booking.
Make changes to existing repeat bookings

You can make updates to existing repeat bookings at any time (so can your users!). When you make an edit, you will be faced with the option to either 'Edit this booking only' which will only edit that single booking, or 'Edit all future bookings' which will make changes to all bookings that are repeating in that cycle. Learn how to edit an existing repeat booking here.
How are repeat bookings invoiced?
There are two ways repeat bookings will be invoiced for your users depending on your pre-existing invoicing settings.
1. Users will be charged for the first booking today, and every subsequent booking is billed at the end of each booking.
2. Users are billed for the first booking on the next billing date, and the cost of subsequent bookings will be calculated as soon as they end with the charges going to a pending invoice.
Either way, users won't be charged for subsequent bookings until those bookings have ended. Learn more about how your users are invoiced in this FAQ.
---
Feedback or questions?
Have follow-up questions or feedback related to repeat bookings? Feel free to reach out to our support team. We're happy to answer your questions and forward along any feedback you may have.