Blog
Future of Work | Creating a sense of community
How to create and nurture your coworking community
August 16, 2018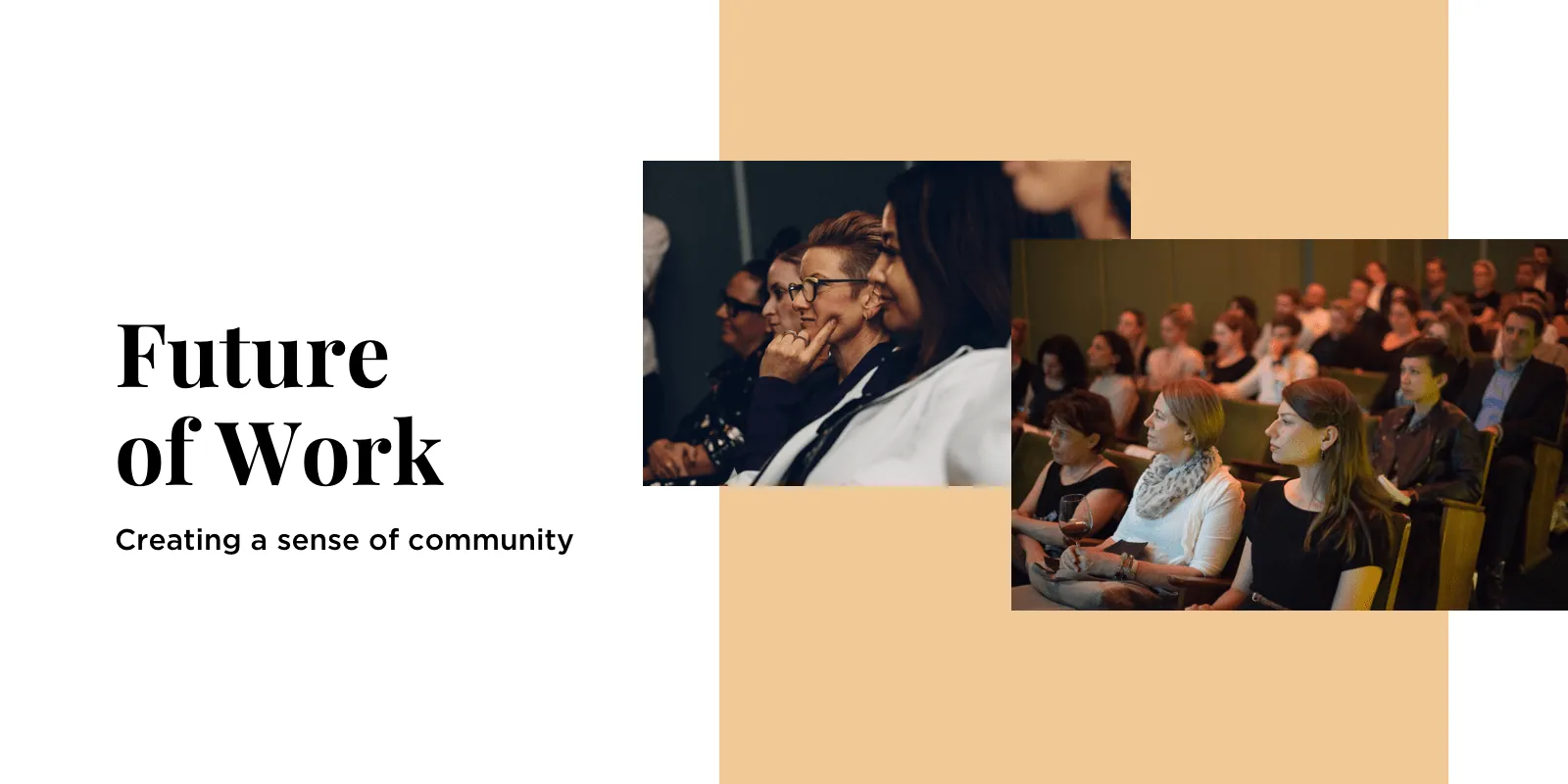 Back in August 2014, we launched the Future of Work interview series. Since then, we've profiled over 30 thought leaders, each one with inspiring insights to share on the 'Future of Work'. We've decided to start compiling and summarizing these interviews to unearth some of the most valuable advice we've collected over the past four years.
To kick things off, our first theme is arguably the most talked about topic in the coworking world and with good reason. Community is one of the core 'whys' of joining a coworking space but nurturing that network is often one of the venue manager's biggest challenges.
No time to dive all the way in? Here are three quick community development insights you can take away:
Be the Host(ess) with the Mostest: One thing many coworking owners and managers we've interviewed agree on is the importance of hosting events. Identify the topic your members want to learn about most and teach them about it. It's the best way to draw them together and get the conversation flowing.
Fewer Walls, More Connections: Design your coworking venue to promote member interaction by opening up the space and ensuring private rooms are built for collaboration rather than hiding away.
It's Ultimately Up to You: Coworking communities start with the venue manager. It's up to you to intentionally get to know your members and identify who you should connect to create powerful relationships.
Tear down the walls
Technology is transforming the way we work. It brings the global community closer but drives the person sitting next to you further away. With 17 years under her belt in the male-dominated global finance industry, Cate Luzio launched Luminary in 2018 as a space for women to work, develop and connect across industries. As she sees it, we're all so used to putting on headphones and hiding behind devices that face-to-face interaction is disappearing fast. In her eyes, that's where coworking comes in.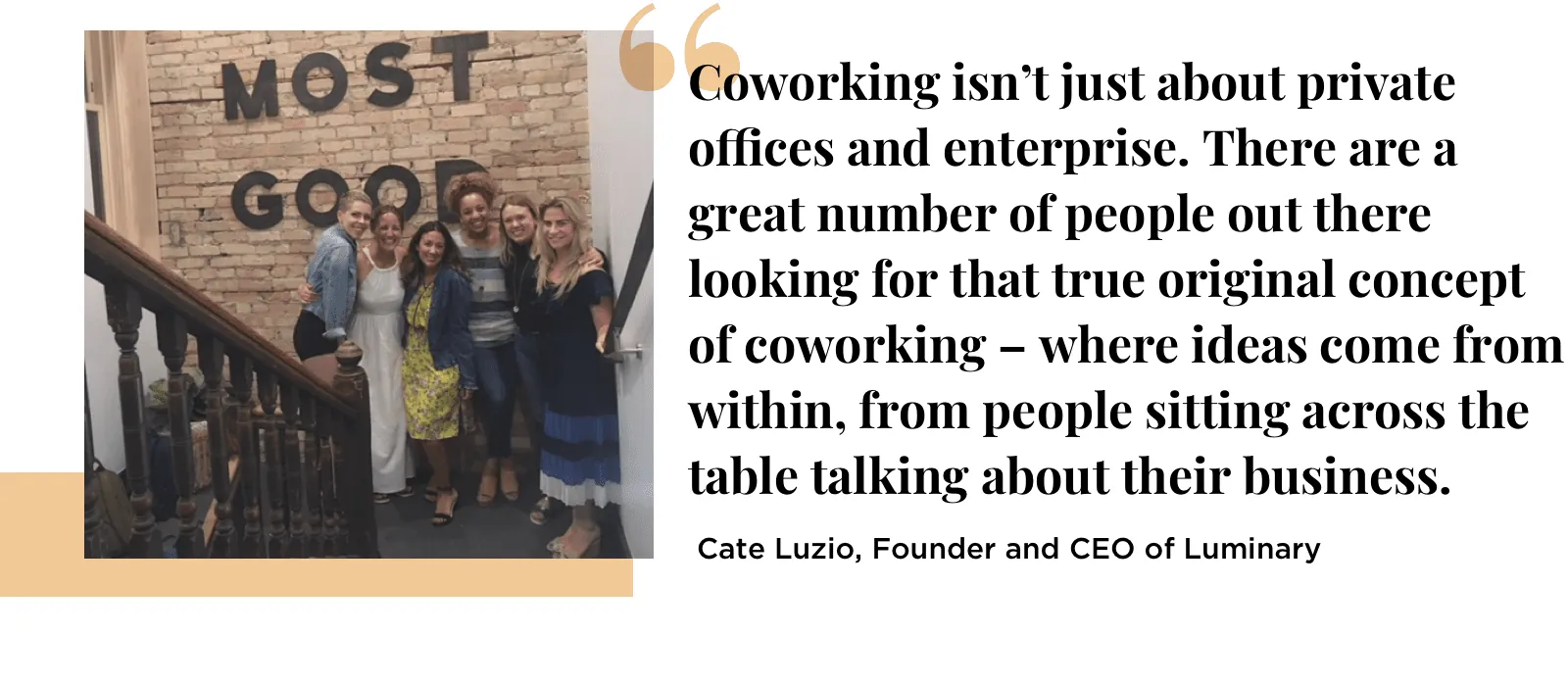 To spark a real community that inspires innovation, we have to bring back that missing interconnectivity. For Cate, the key is a combination of accessible space and tailored learning experiences. Take a look at the environment you create. Does it encourage interaction or hide people away? Private spaces are important, but they don't have to be for the individual. Huddle rooms and conference rooms offer privacy that opens the door to collaboration. The goal should be to design a space that promotes dialogue and a sense of belonging.
The next step is to bridge the gap between members. Cate believes events are the way to do this. If you can identify the core topics your members need to learn about – be it marketing, business planning or personal branding – you can host workshops with local experts across industries that entice people together. Once you have your members in one room (without their headphones), it cuts down the silos and creates the opportunities for real collaboration that bring a community to life.
Fostering community through intention
They may be complete strangers and thousands of miles apart, one in Australia and the other in Canada, but Naomi Tosic, director of Sydney's award-winning The Office Space, and Darryl Bosa, Founder of Canadian coworking space Spacekraft, have the same coworking ethos – community starts with the venue manager.
People rarely approach each other without a nudge. A member's main aim is to get their work done and they don't want to disturb others from doing the same. To develop a community, it's up to the venue manager to help create the culture. For both Darryl and Naomi, the way to do this is by intentionally getting to know each member. Learn their name and chat about their challenges. Ask about how their latest pitch went and what their next goal is. From there, it's much easier to identify who you should connect to create powerful reciprocal relationships.
But Naomi and Darryl don't stop there. Extending this idea of intentionally forging relationships, they actively create opportunities for more personal interactions between members. Naomi organizes an Insight talk series that brings people together in an intimate setting and opens up the chance for deeply personal conversations. Darryl hosts weekly sit-downs where members can share their goals, achievements, and challenges. The result for these founders is a truly thriving community that cheers each other on and offers help where they can.