Blog
Introducing: Drop-in Bookings for Web
Introducing: Drop-in Bookings for web
May 28, 2020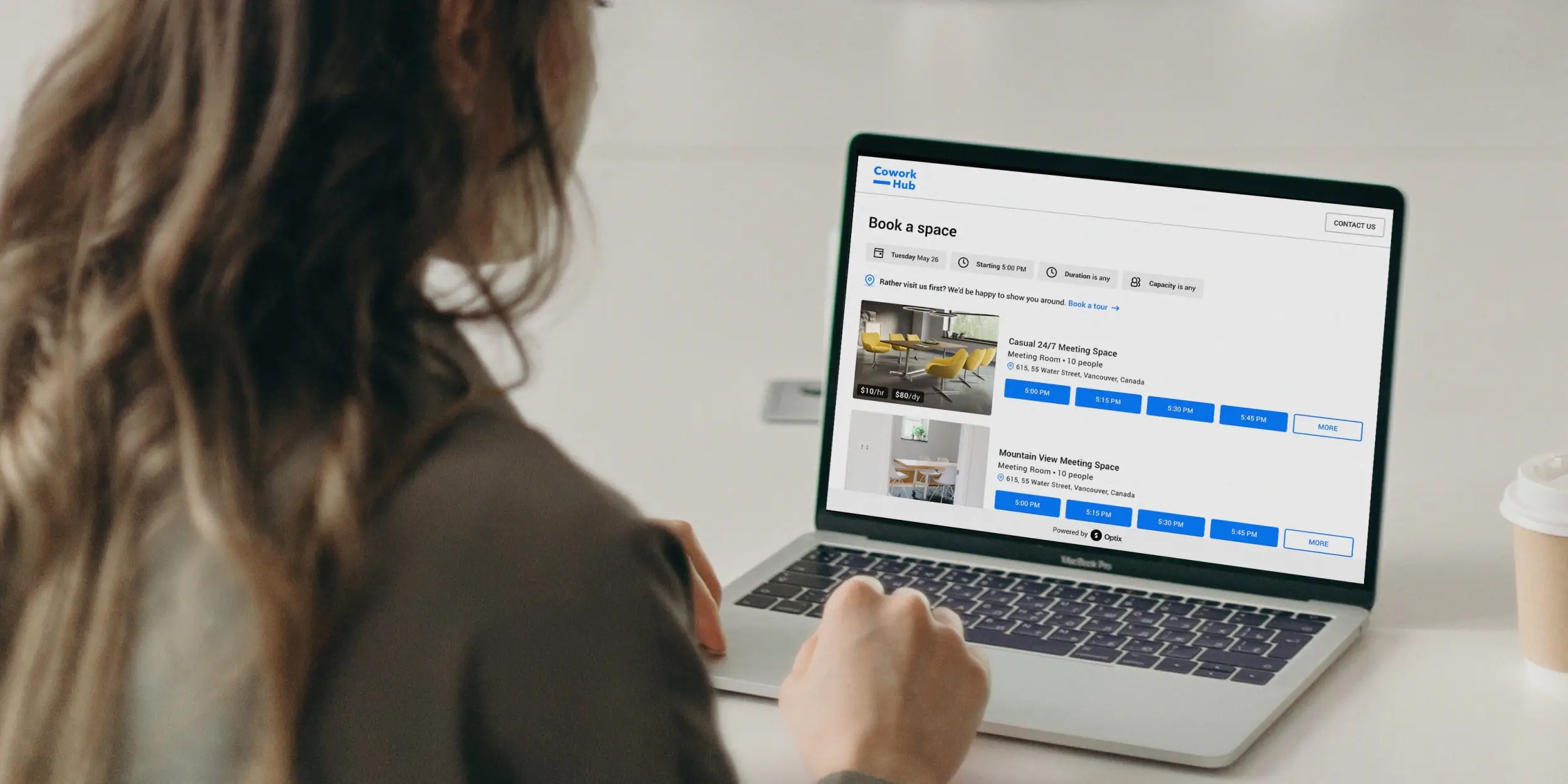 We are passionate about creating tools for you to continue to grow your business, and this includes tools that allow you to market your space to potential customers. Our team has been hard at work designing a new feature, Drop-in Bookings – enabling your customers to make and pay for a booking directly from your website!
Read on to learn all you need to know about this exciting new feature.
Customers can book and pay for a space directly from your website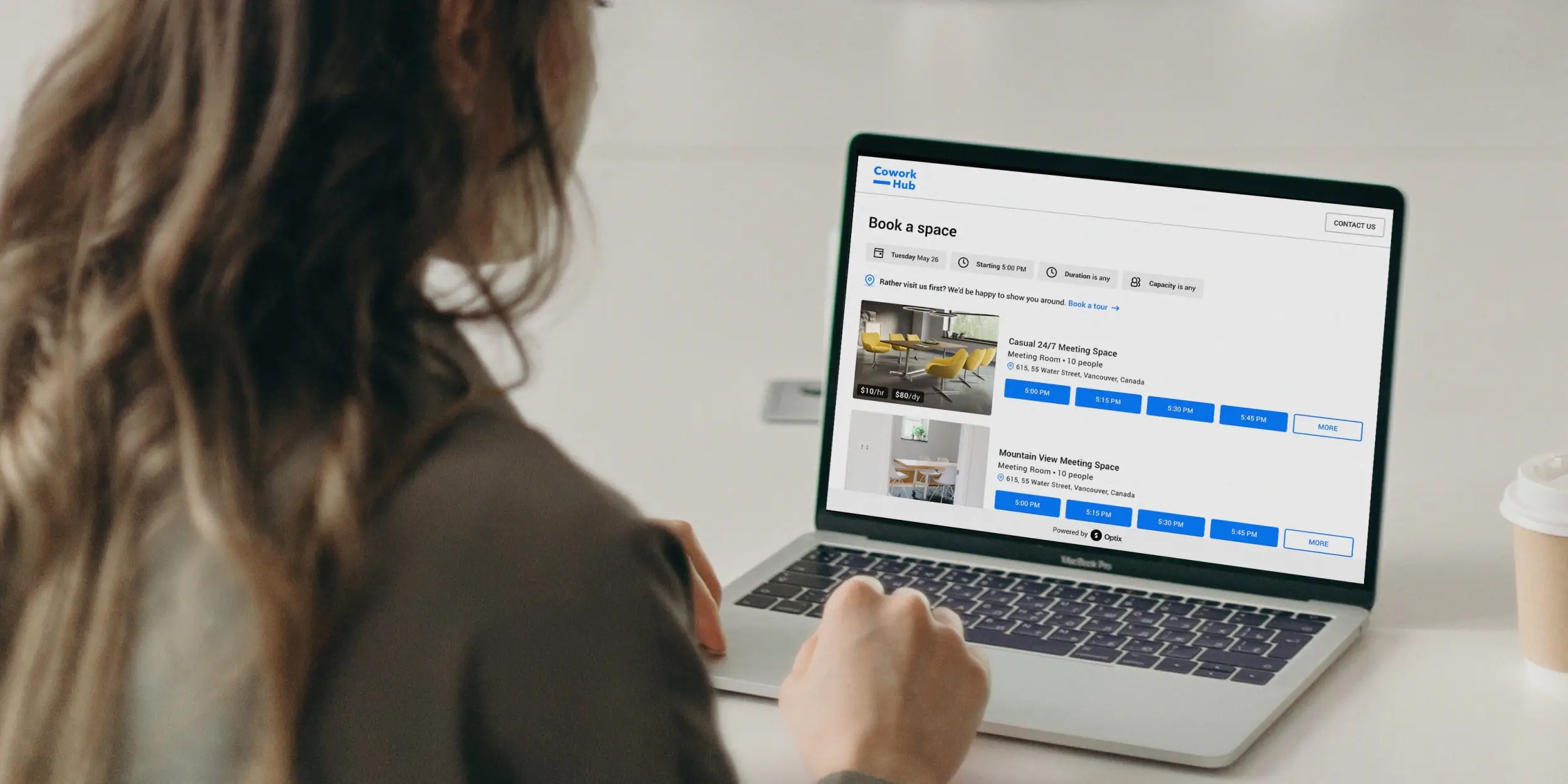 With the Drop-in Bookings feature, prospective customers who visit your website will be able to select a room or desk, choose a time, and pay for it – all from your website! In a few simple steps, you'll be able to plug the feature onto your website and have booking functionality up and running in no time. In addition to having it on your website, you can also copy a custom link that you can use in marketing emails.
Plus, as mentioned above, when a new customer makes a booking, you will be able to collect their payments upfront and their payment information will be added to their profile in Optix.
Accept tour bookings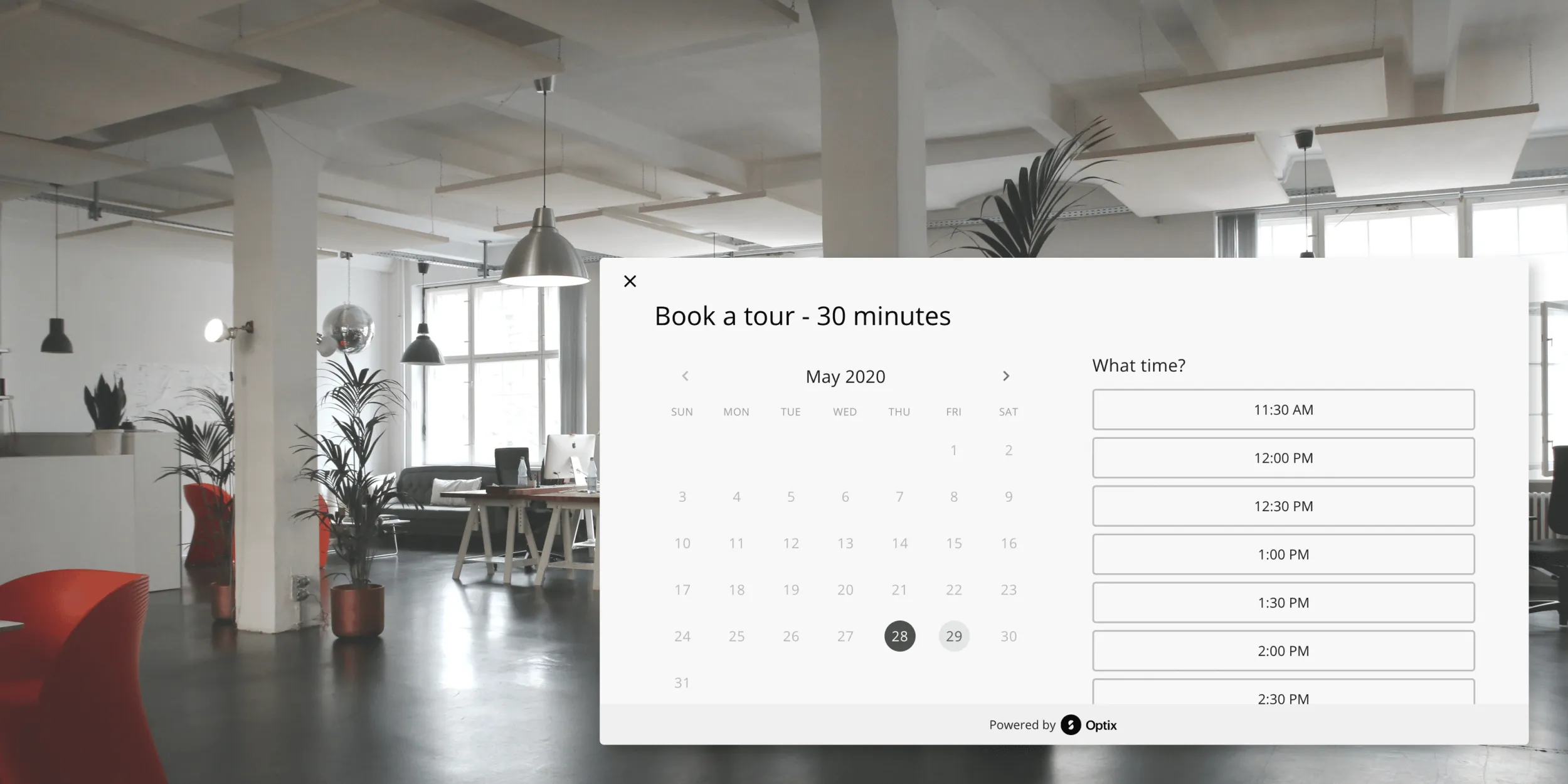 Not only can prospective customers book spaces on your marketing website, but they can also book tours. We've added the ability for you to accept tour bookings for your locations alongside the Drop-in Booking plug-in, or embedded as a standalone plug-in. You can customize the title and duration of the tour, and customize the look and feel too. Learn how to enable tour bookings here.
Customize which spaces are bookable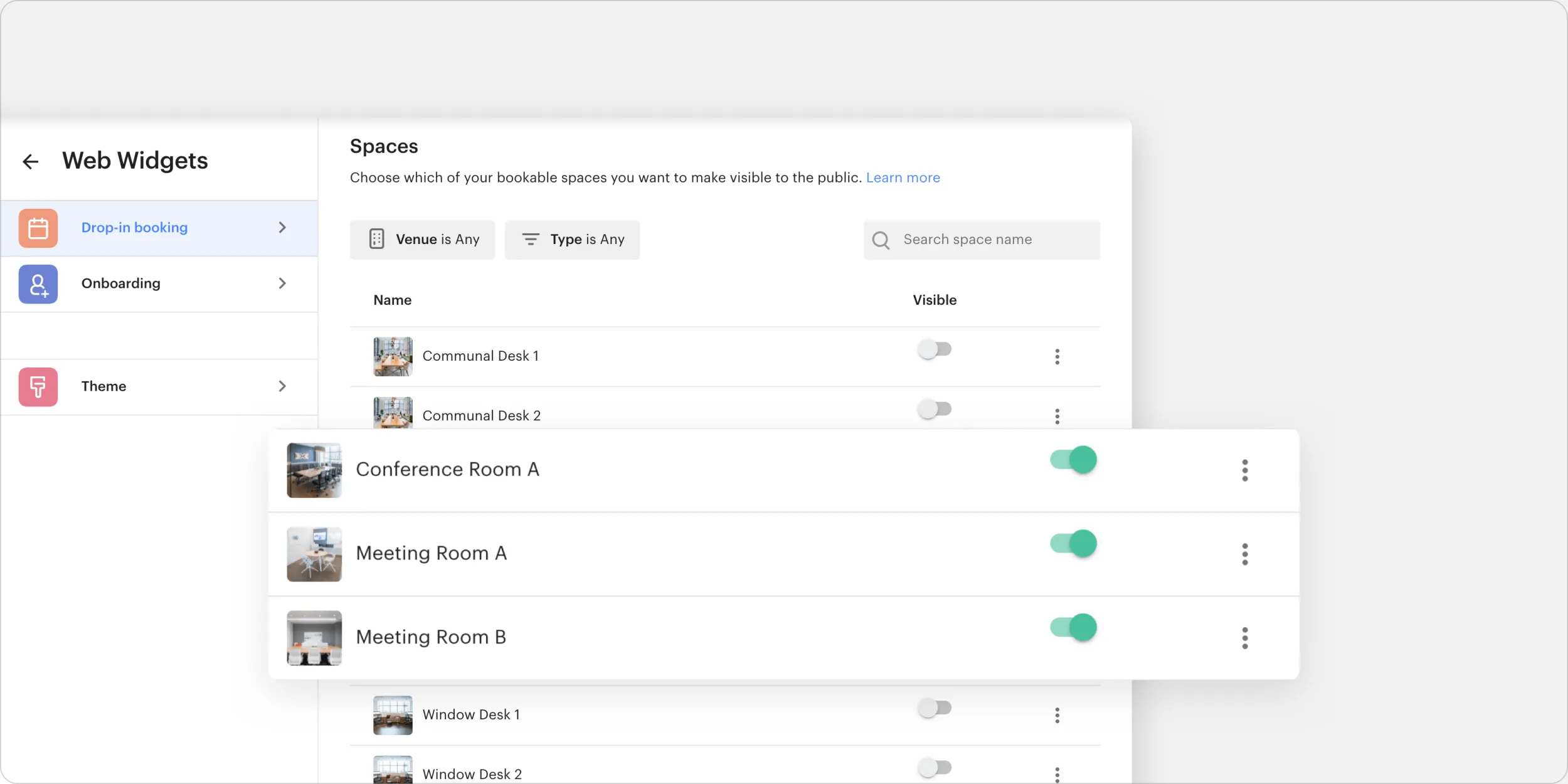 Instead of showcasing all of the spaces at your venue to book, you're able to select which spaces you'd like to showcase.
By default all of your bookable rooms will be enabled and visible, with any bookable desks defaulted off. However, in your Drop-in booking settings, you can toggle spaces on or off to hide and show them.
Have multiple venues? You can even filter by venue and space type or use the search functionality to narrow down which spaces you'd like to enable.
New customers will become an active member of your space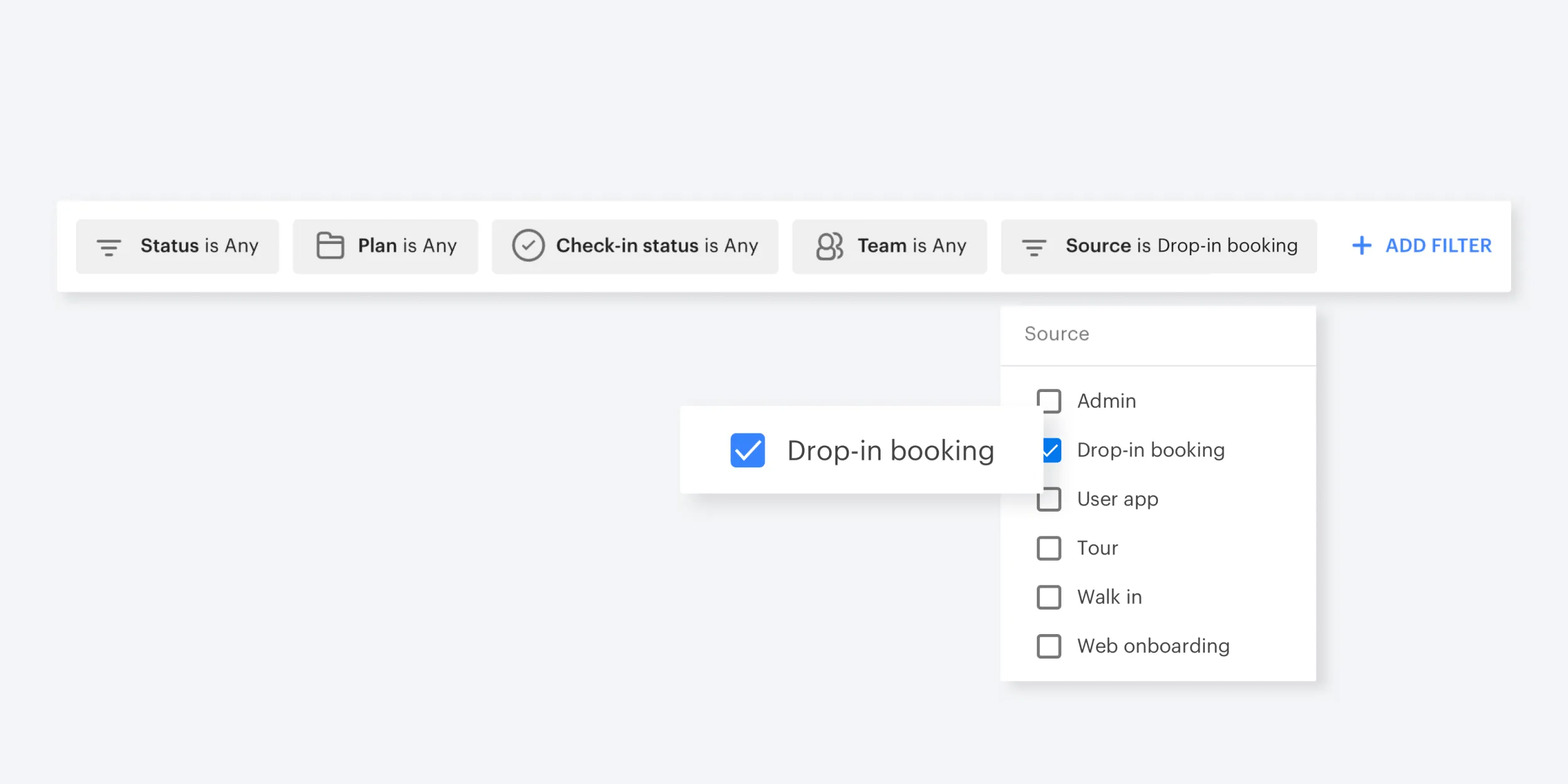 When someone makes a booking, their information will funnel directly into the user list in your Optix venue dashboard. They'll become an active member, and you'll be able to see their user source as 'Drop-in booking'. You can then filter your user list by this source and reach out to people with promotions and deals for your space to encourage them to sign up for a membership.
Customize the look and feel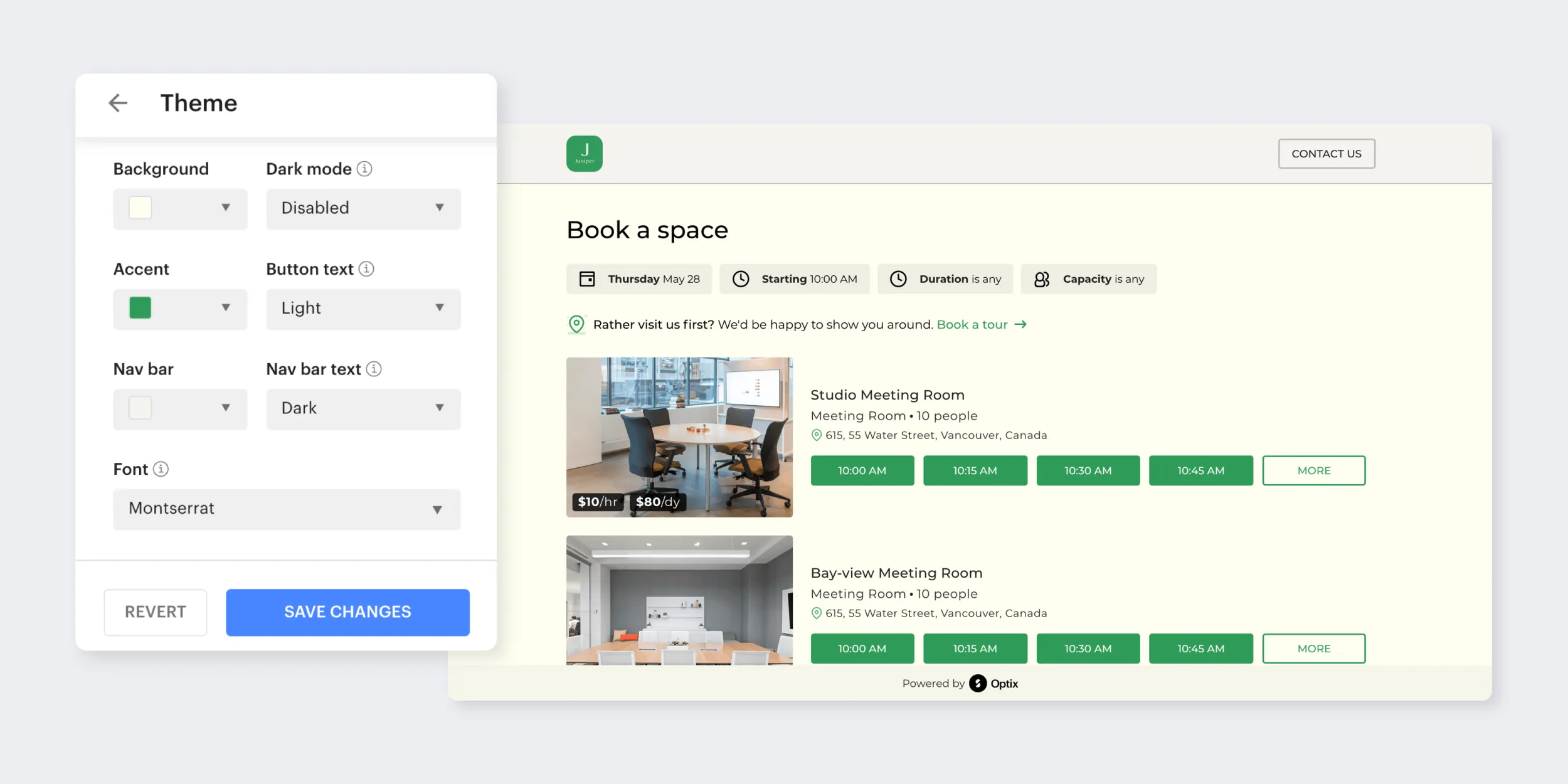 What is great about this feature, is the customization of it. Not only will you be able to customize the spaces that are accessible to book, but you'll also be able to customize the title of the booking plug-in and the cancellation policy. And best of all, by simply using the same theme as Web User Sign-up, you're able to visually design aspects of how the plug-in will look on your site, including:
Font: Choose from over 800 Google fonts
Colours: Pick an accent color, background color, and navigation bar color
Embed mode: Select whether you'd like the plug-in to be a pop-up, a link (full-screen), or embedded directly on your website
Learn more about how to customize the widget by reading this FAQ.
Receive confirmation emails
Once someone has made a booking, they will receive an email with an overview of the booking details and the option to email you if they have any questions.
And on your end, you'll receive emails with confirmation of the new booking, member details, and an email notifying you that their invoice has been paid.
Use this as a marketing tool
This feature is a great marketing tool for you to showcase your bookable spaces while also allowing for direct booking.
To promote your most popular spaces, you could create custom landing pages and embed just the transactional element of the drop-in booking widget directly onto each page for a quick way to book. By using terms such as 'book a space in [city]' or 'meeting room in [city]', it will boost the SEO of the page, and increase traffic to your website. This allows you to provide a spotlight for your space with more information on the space, images, amenities, etc. Learn how to embed just the transactional element by reading this FAQ.
---
We're thrilled to continue designing tools to support you with building a growth engine and attracting new customers to your coworking business. We believe by marketing your spaces and taking bookings and tours on your website it will increase your reach and encourage new customers to book and visit your coworking space.
Ready to get started using this feature? Learn how to set up Drop-in bookings on your website with Optix by visiting this FAQ.