Blog
Introducing: Multi-venue Management
Multi-venue management can help you scale your growing business. Learn how with Optix
November 22, 2017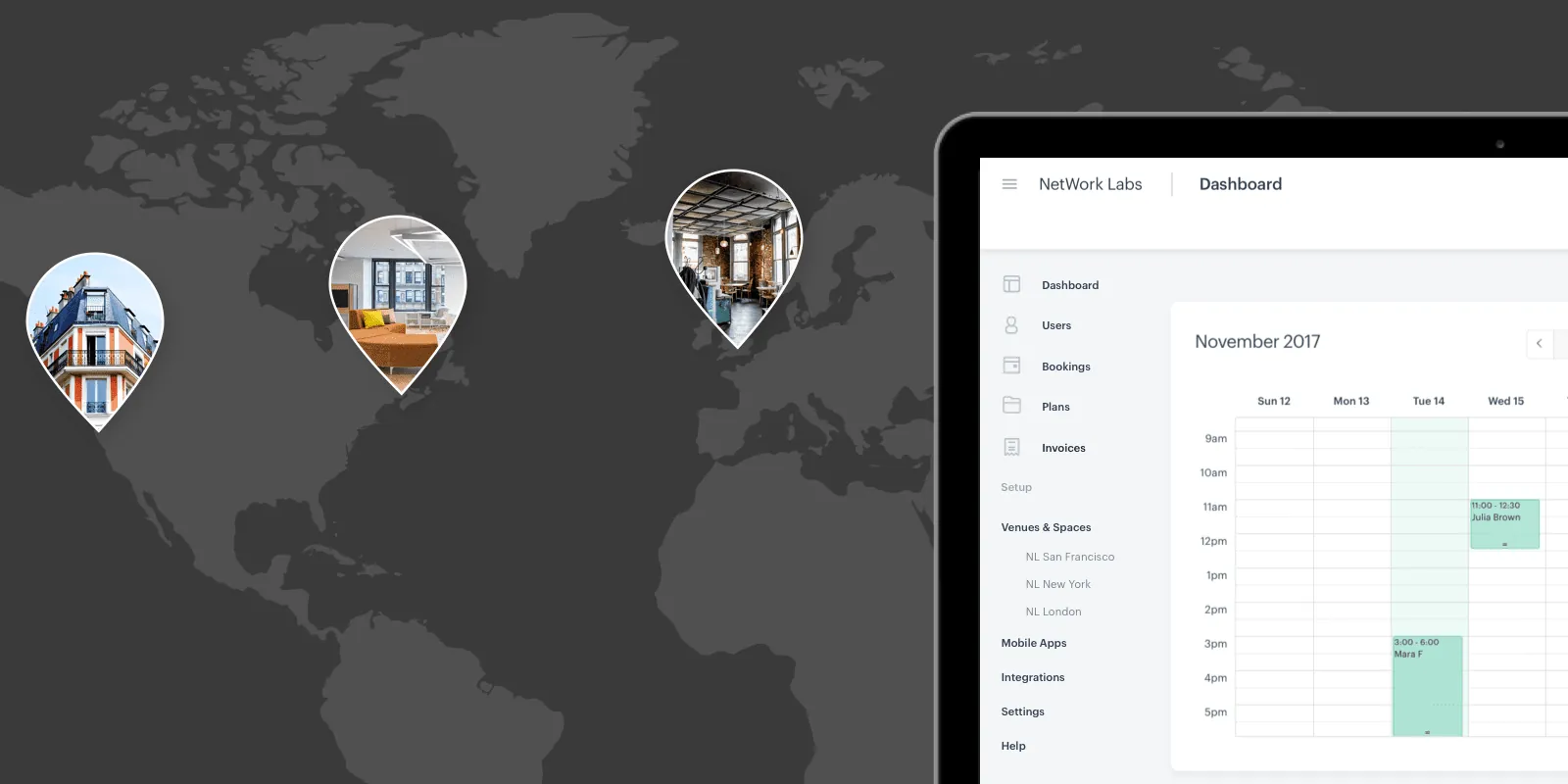 The long-anticipated day is finally here—you can now manage multiple venues within one Optix account! Optix now supports managing businesses of all sizes, whether you have one location or a network of dozens.
We created Optix to support you in elevating your workplace experience through allowing you to provide more flexibility and value for your members. Now you can build your very own multi-venue network that utilizes a mobile-first solution, one designed to grow with you as the needs of your business evolve over time.
The launch of multi-venue marks a new evolution in the product, one which closely aligns with our mission to enable workplaces to transform into more connected and inspiring communities.
What this means for your business
If you already have multiple locations up and running, Optix can streamline the management of your entire organization. Manage multiple venues from within one dashboard. For your members, this means they can now stay connected to their extended community within your white-label mobile app. They'll also be able to check in and book the rooms and desks at any of your venues with ease.
Are you currently operating a single-venue organization and have plans for future expansion? Optix will help make those goals more achievable. There's a multitude of ways to use the analytics you receive in your Optix dashboard to nail down your operational model. Take the guesswork out of launching your second venue and skip the headache of transitioning onto a brand new platform only after you've expanded.
Ultimately, Optix can grow and scale right alongside your business. Getting your organization set up with Optix makes it easier than ever before to consider expanding to that second (or third!) location, as Optix helps handle all of the day-to-day logistics. This frees up your time to focus on managing your community, refining your brand, and turning your big picture vision into a reality.
What this means for you and your venue admins
Within the new Optix dashboard, management is now broken up into two tiers: organization and venue.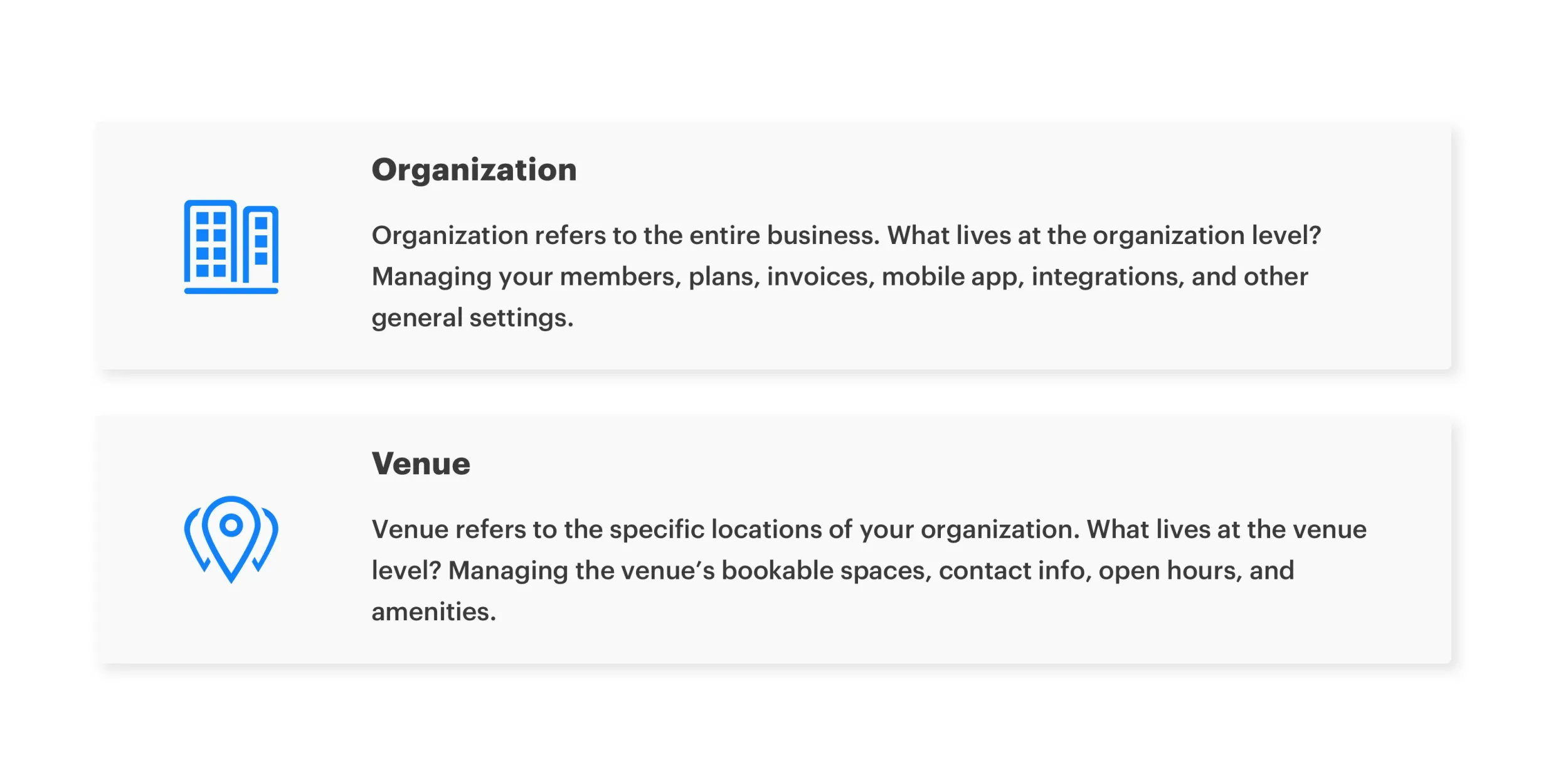 For more information, check out our multi-venue FAQs.
What this means for your members
Your members will enjoy access to all of your venues from within one white-label mobile app. This means they'll be able to browse through the directory to connect with all of the members across your organization, search through the bookable spaces available at each of your different venues, and so much more.
Offer your members customized access to one specific venue or all venues within your organization through plans. Build as many plans as you need to ensure everyone receives the type of access that fits their membership needs.
How to get started with multi-venue management
Ready to power your organization with Optix? The process you'll take to get your venues set up will differ depending on if you're a current Optix client with one venue, or if you're a brand new Optix client.
For current Optix clients:
To add additional venues to your existing Optix account, please contact your Optix Account Executive or send us an email at support@optixapp.com.
For prospective Optix clients:
Set up a demo to speak with one of our Account Executives, who will walk you through a demo and share more about how you can get set up with a trial of Optix for multiple venues.