Blog
Introducing: Resource Assignments
A new way to assign Resources to your Users
June 9, 2021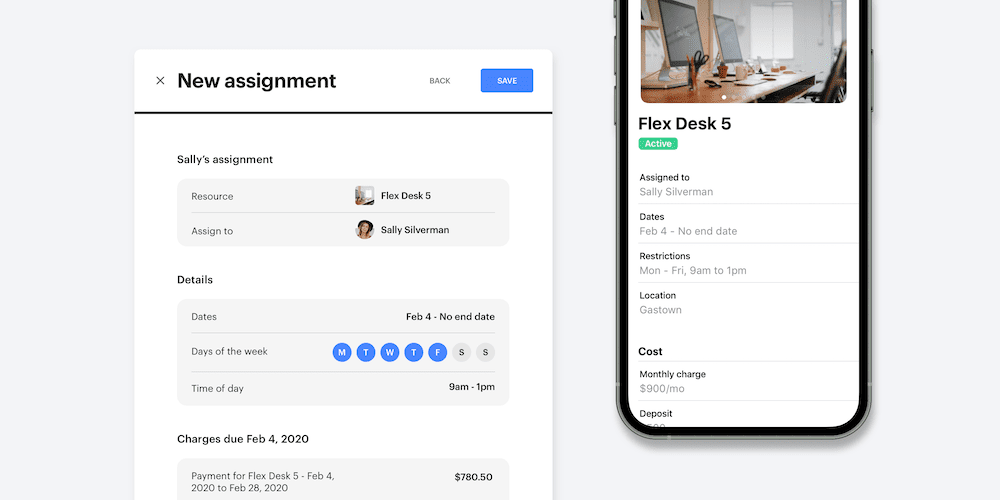 Summary
Assignments is a new way to allocate Resources to Uers in Optix
With Assignments, you can provide users dedicated access to private offices, dedicated desks, and other resources with ease
They are flexible, customizable, and able to fit a variety of business models, from coworking spaces to micro gyms and everything in between
We're delighted to announce a new feature that can change the way you allocate Resources to Users: Assignments!
We built assignments to enable you to provide users dedicated access to private offices, dedicated desks, and other resources with ease.
Assignments can be complex, especially in the world of hybrid work, so we've designed this feature in a way that gives you full flexibility to customize to each of your assignments!
Ready to learn more about the power and flexibility of resource assignments? Read on!
Assign any resource for days, weeks, or however long you want! ⏰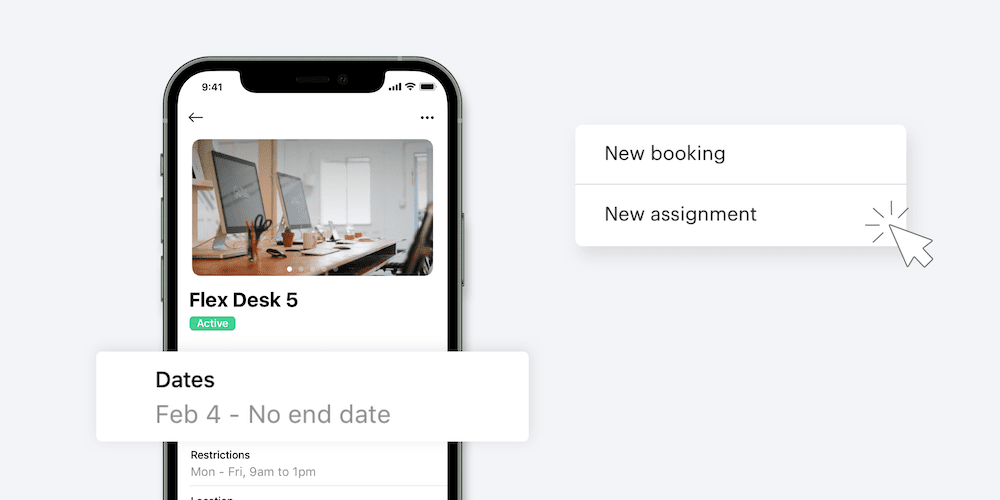 Looking for a better way to assign resources in Optix? Maybe you want to give your regulars some extra love with a dedicated private office. Or perhaps your flexible office is going hybrid, and you need a way to assign desks and meeting rooms to employees on an ongoing basis. However you prefer to manage your workplace, this feature gives you full control over the use and visibility of resources.
Dedicated desks, rooms, and resources can be assigned to a user for a predetermined length of time, or on an ongoing basis.
Resource assignments have gone flex 💪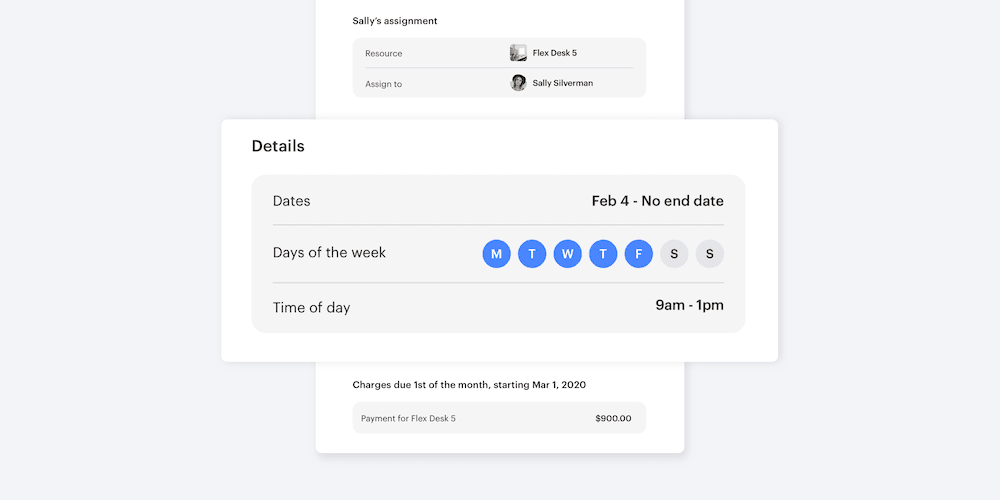 Assigning a resource has never been more flexible or customizable. Assign exclusive use of a workspace to users or teams, and make that workspace available outside of those hours for regular bookings. Now your resource is working twice as hard and more people can use your space.
Even when a resource assignment is ongoing, you may wish to restrict access on certain days or during specific times. That's why we've included the ability to set Conditions on assignments. You choose the days of the week and times of day that a resource assignment will be available, and to whom. Choose from standard condition options like only weekdays or weekdays from 9 am to 5 pm, or go even further and create your own set of custom conditions. It's always your call when and how your space and equipment can be used.
Maximize your space utilization
With assignments, you can offer your regulars exclusive use of space, while ensuring that space is always used to its fullest potential.
For example, Matt needs a large dedicated office on weekdays from 9 am to 4 pm. His assignment ensures he has exclusive access to a private office during this time, and there's no end date. But his dedicated office is still available for bookings until closing at 8 pm, and on weekends. From 4:30 pm to closing, Cindy books the private office to meet with clients. On Saturday, that office becomes a conference room for a speaking event. On Sunday, a small group of entrepreneurs meets there for a weekly jam.
This functionality supports hybrid resource planning, so your space is always optimized. With assignments, everyone can have their favorite desk or room.
Choose freedom with customizable billing 💸
We designed assignments to account for all kinds of resource use cases. When you assign a resource to a user, you decide how and when to charge them. Customize the date of the first payment, give a grace period before paying, and set the ongoing payment cycle. You can also add a refundable deposit to an assignment.
Single vs. repeat payments 💳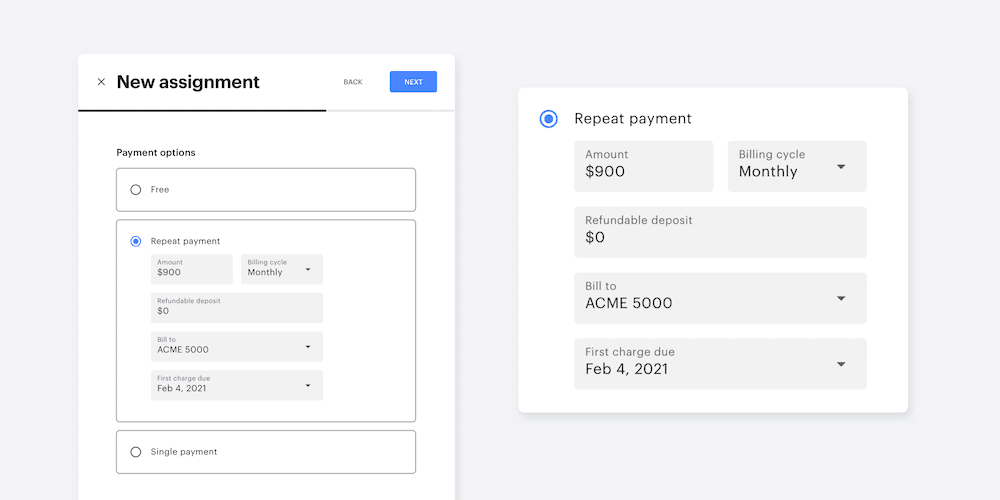 The way you bill for resource assignments is up to you! When you create a new assignment, enter the usual rate for that resource, or use a custom rate. In terms of cadence, you have the option to charge as a single payment, or as a repeat payment monthly or annually.
Assign a resource to a special client or an employee at a free rate to show them your appreciation. A free assignment can also be useful when a member's subscription already covers the cost of the assignment, or if the assignment is for an employee.
Get the analytics and insights you need to optimize your workplace 🗓
All your bookings. All your assignments. One place.
The Schedule in your Optix dashboard is the place where you can see all your bookings and resource assignments together. View your schedule on a calendar or in a list view to best visualize your space utilization at a glance.
With greater visibility into the ways a particular resource is being booked or assigned, you have the information you need to make adjustments. Use this knowledge to iterate on plans and your revenue streams, so you're always meeting the needs of users and growing your business.
Feeling inspired to put the new resource assignments in Optix to work for your workplace?
To learn more about granting longer-term assignments to specific users and teams, check out the Help Center article What is an Assignment?
---
Have questions or feedback related to assignments? Feel free to reach out to our client experience team. We're happy to answer your questions and take any feedback related to this update.